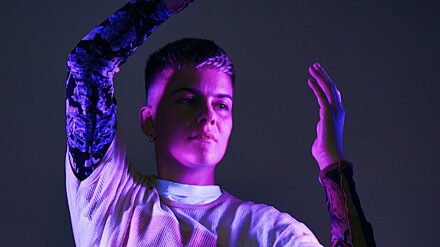 Bio
Kai Merke (they/them) is a white, non-binary trans and professional dancer, choreographer and somatic voice coach.
Kai is educated at the Inter-University Centre for Dance Berlin (HZT). They co-founded the collective dance for plants in 2016 and has since speculated with plants in workshops and performances in various formats and venues in Denmark, Belgium, Germany, Sweden and France. Most recently Kai has worked with choreographer and visual artist Jules Fischer in the renowned queer opera performance Dryppende Stof and in the video installation and dance performance Vanitas.
Kai moved from Berlin to Copenhagen in 2020 to start Dance Cooperative, a new dance studio with an intersectional approach that is organized together with fifteen other artists working within the field of performing arts. Kai is also a facilitator and organizer of events, workshops and other formats within the performing arts field. They are part of an international collaboration around the creation of new curatorial practices in a network of artists and three institutions: workspacebrussels, HAUT (Copenhagen) and La Serre (Montréal).
Projects